Michelle A. Ross, Esq.
Michelle earned her Bachelor of Science in Psychology, a minor in Legal Studies and a Related Area/Minor in Italian from the University of Pittsburgh in 2010, magna cum laude. In 2013, she earned her Juris Doctor from the Duquesne University School of Law. While attending law school, she was a member of the Trial Advocacy Team, competing in the American College of Trial Lawyers National Trial Competition in Philadelphia, PA, and the William W. Daniel National Invitational Trial Competition in Atlanta, GA. Upon graduation, she was inducted into the Louis L. Manderino Honor Society, and received the Pro Bono Program Certificate of Recognition.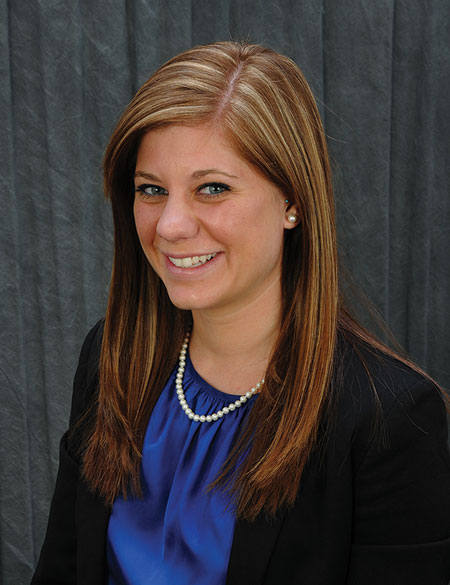 Before graduation, Michelle interned with two Common Pleas Judges in Allegheny County (family and criminal), and worked at two small law firms (liquor licensing and criminal/oil and gas). Upon graduation, Michelle worked for a general practice attorney in Beaver County, practicing in the areas of family, criminal, estate, civil, and municipal law.
She then became an Assistant Public Defender in Beaver County where she participated in numerous hearings and pleas, and argued before the Superior Court of Pennsylvania. Additionally, Michelle received numerous Court appointments, representing parental and juvenile rights in Dependency/CYS actions, and juveniles in Act 53 cases (cases wherein parents petition the Court to involuntarily commit their children to an inpatient drug and alcohol facility). Michelle also worked at a law firm in Wexford, PA, practicing solely workers' compensation defense.
Michelle joined The Elder Law Office of Olimpi & Kramer, LLC., in November of 2016. She is an active member of the Beaver County Bar Association and the Young Lawyers Division, and has served as the Secretary and Treasurer of the BC YLD. She is also a member of the Allegheny County Bar Association, Pennsylvania Bar Association, American Bar Association, Duquesne Alumni Association, Pennsylvania Association of Elder Law Attorneys and the National Academy of Elder Law Attorneys. Michelle was recently selected as one of eleven young attorneys from across the state of Pennsylvania to participate in the Pennsylvania Bar Association Bar Leadership Institute class of 2018-2019. The PBA BLI is designed to recognize dynamic young leaders, provide them with networking opportunities, and develop them into key members of the bar association.
In 2017, Michelle became the Treasurer of the Committee to Elect Mitchell P. Shahen Judge of the Court of Common Pleas of Beaver County, PA. Along with Chairperson, Stephanie Thomas Kramer, she ran a successful campaign for Judge Shahen, who was elected to the bench in 2018. She also sits on the Board of Trustees of the Carnegie Free Library of Beaver Falls, and serves as Secretary and Pillar I Chairperson. Michelle, along with Joe and Stephanie, is a Notary Public.
In addition to representing clients in elder law and business law matters, Michelle continues to represent private defendants and juvenile delinquents in criminal matters, parents and juveniles in dependency/CYS proceedings, and juveniles in Act 53 matters. She has additionally been retained to serve as Solicitor of the Lincoln Park Performing Arts Charter School (Midland, PA), and the Solicitor for the Midland Borough Zoning Hearing Board of Appeals.
Michelle is licensed to practice law in both the Commonwealth of Pennsylvania and the State of New Jersey, as well as the United States District Court, Western District of Pennsylvania.
Originally, Michelle is from Monroeville, PA, but currently lives in the city of Pittsburgh. She enjoys snowboarding, kayaking, camping, hiking, and rock climbing.