Kaitlynne M. Kline
Kaitlynne graduated in the top ten of her class from Cochranton Junior-Senior High School in 2012. In 2016, she earned her Bachelor of Science in History and Sociology and a Minor in Administration of Justice on a Pre-Law track from the University of Pittsburgh.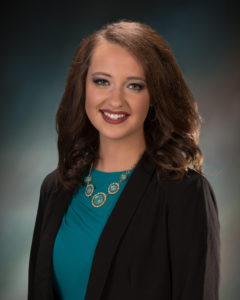 Kaitlynne is currently a Second Year Law Student at Duquesne University School of Law, with an expected graduation date of May, 2019. Kaitlynne serves as the Law School Representative for the Student Government Association, and served as a member of the Student Government Association's Election Board in 2017. She also serves as the Secretary for the Christian Legal Society, Duquesne School of Law Chapter. She is also a member of the Urban Development Practicum, which provides a variety of legal services to organizations and individuals with the goal of helping the Greater Pittsburgh Area during the academic calendar year. Kaitlynne is currently a member of the Duquesne University School of Law Trial Advocacy Team and competed at the Florida State University National Trial Advocacy Competition in March of 2018, where her team advanced to the semi-final round.
Kaitlynne has been an active participant and volunteer for the Miss America Organization for over 10 years. She has held several local titles throughout the state of Pennsylvania and was Miss Pennsylvania's Outstanding Teen in 2011, where she represented the state of Pennsylvania at the Miss America's Outstanding Teen Pageant in Orlando, Florida. Kaitlynne was honored to receive the Outstanding Achievement in Academic Life Award, as she maintained the highest GPA of all the contestants, and completed the largest amount of community service hours. Kaitlynne remains active in the organization as a volunteer and advocate of the scholarship program.
Kaitlynne joined The Elder Law Office of Olimpi & Kramer, LLC., in May of 2017 as a Legal Intern and in January 2018, she became a Certified Legal Intern.
Originally, Kaitlynne is from Carlton, PA, but currently lives in the city of Pittsburgh. She enjoys singing and is an avid outdoorsman.